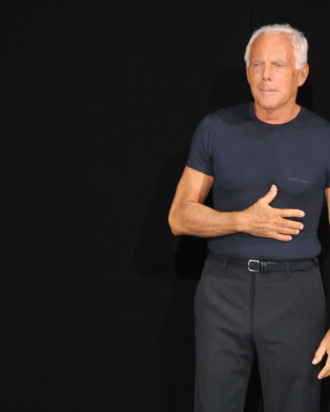 Time for another game of the 2011 he-said-he-said tournament, sponsored by Moet & Chandon* with support from Fiji Water**. To recap: Game 1 saw Giorgio Armani accuse labels like Dolce & Gabbana and Prada of making men look ridiculous on the runways, with another implied jab at Prada for going public to pay off massive debts. Tod's CEO, Diego Della Valle, came back strong in Round 2, saying that Armani's "attack" did "not make any sense" and suggesting that he invest some energy in helping to restore old Italian buildings, which Tod's is doing. Armani is back for Game 3, reports WWD. He wrote nearly a page letter to Italian newspaper Corriere della Sera:

"I don't need alliances, complicity, or need to surround myself with international jetsetters," he wrote. "I have too much respect for myself, for the public, and for the people that work both with me and the fashion industry to renounce any sort of intellectual honesty that influences and orients my life, even at the expense of attractive economic opportunities … I don't need any of the money from the stock exchange — not for growth, not for globalization, not to aggregate my brand."
*Moet is actually not a sponsor, but if they'd like to get in on something like that, we're always open to conversations in their tasting room.
**Fiji Water is not actually a sponsor, either, but we are open to discussions about how to best keep hydrated — for free — while we blog!