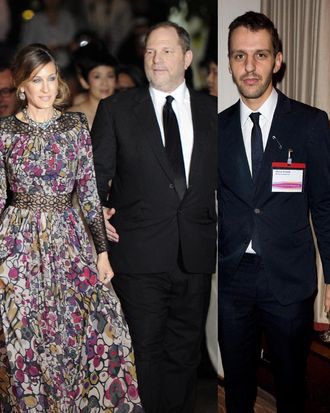 Former Halston-ers Sarah Jessica Parker, Harvey Weinstein, and Marios Schwab.
Previous reports that Harvey Weinstein's involvement with Halston had been terminated were confirmed this morning. The label's remaining investor, Hilco, has reportedly invested $7.5 million in new capital to make up for Weinstein's financial withdrawal, signaling its commitment to the house's survival.
Harvey Weinstein Out at Halston [WWD]
Update: Reports have emerged that Halston's designer, Marios Schwab, has also left the fashion house. His designer-level Halston collection is said to be discontinued, and the label will instead focus on its diffusion line, Halston Heritage (which Sarah Jessica Parker formerly oversaw). Halston won't show a collection for spring 2012, and it's still unconfirmed whether the fall 2011 collection will even be delivered to stores.
Marios Schwab Out at Halston [WWD]
Earlier: Harvey Weinstein Has Supposedly Left Halston, Too
Related: Sarah Jessica Parker Isn't Working at Halston Heritage Anymore