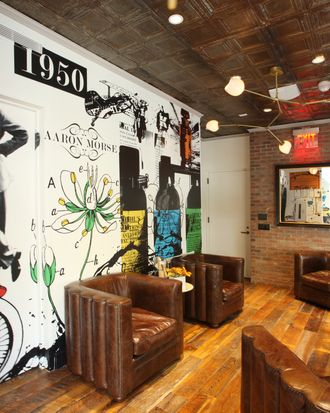 Upscale skincare brand Kiehl's unveils its first uptown location today, an art-bedecked, two-story spot touting the long-awaited Spa 1851, the company's first full-treatment spa. The vibe is sleek and professional; an uptown answer to Bliss. Treatment rooms feature original art by Curtis Jinkins and David LaChapelle, while the men's grooming area displays Am I Collective art alongside custom barber chairs by motorcycle builder Paul Cox. Though each of the three treatment rooms are themed — the Rainforest Room, the Apothecary Room, and the Mt. Everest- and Mojave Desert-inspired Adventure Room — the space also incorporates familiar Kiehl's touches from the downtown flagship, like reclaimed tin ceilings, antique fixtures, and subway tile accents.
The spa employs five full-time aestheticians and specialized practitioners — including a master barber and massage therapist — who administer facials, hair and scalp treatments, massages, body treatments, and men's grooming (see the full menu, with prices, here). All treatments incorporate Kiehl's products, of course, but masks are custom-blended on the spot according to your skin's needs. It's a small space, so there's no locker room to speak of, but two of the three rooms include showers. After splurging on a service, you can stock up on skincare products (or samples!) in the first-floor retail store. Click ahead for a look inside.
Spa 1851, 157 E. 64th St., at Lexington Ave. and Kiehl's, 841 Lexington Ave., at 64th St.; 888-772-1851. M–S (10–8), Su (11–7).