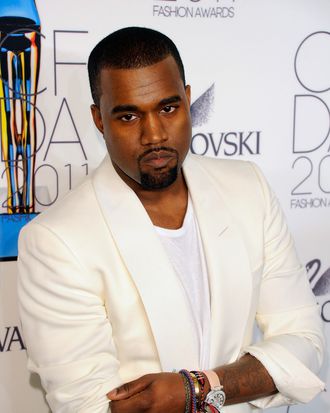 Someone's on trend with their all-white.
Photo: Andrew H. Walker/2011 Getty Images
That Kanye West will be at New York Fashion Week in September is a given. That he will show his own clothing line there is not, but Grazia says "excellent sources" tell the magazine he will and that he is getting help from designer Louise Goldin and Central St. Martins professor Louise Wilson. So the obvious names, in other words.
Kanye has been talking about doing a clothing line for years. We've heard he has also been picking at it for a long time. Like, you may have started a personal blog or Twitter account and eventually stopped bothering with it but go back to it every now and then and think about how you should really get rolling on it again. One celebrity version of that is picking at a fashion design sub-career.
Grazia Exclusive: Kanye West's NY Fashion Week debut! [Grazia]