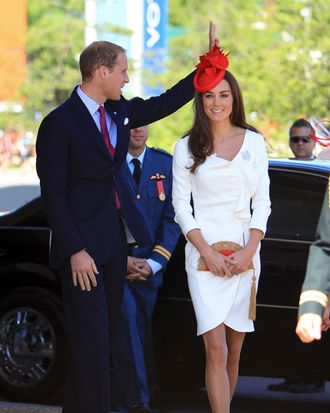 Photo: Macpherson/Gillis/Splash News/? www.splashnews.com
This morning, Kate Middleton continued making it seem like Prince William may as well be invisible as Their Royal Highnesses headed to the Canadian Museum of Civilization in Quebec on day two of their North American journey. Kate exited her black car wearing the same white Reiss dress she wore for her engagement portrait, red pumps, and a maple leaf fascinator, essentially making her the upper-middle-class sartorial equivalent of the Canadian flag. Upping her Canada-ness even more, she accessorized with the queen's maple leaf brooch. Awesome.
See more images of Kate wandering through Canada and other parts of the world in the Kate Middleton Look Book.