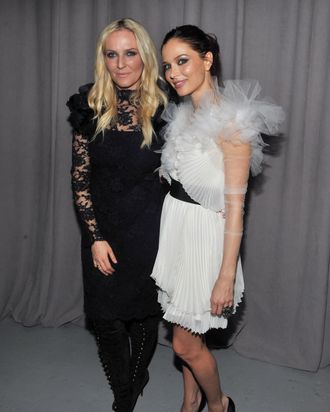 Marchesa designers Keren Craig and Georgina Chapman.
Photo: Henry S. Dziekan III/2011 Getty Images
Marchesa normally holds small presentations during fashion week, so intimate that Irina Lazareanu dishes out pep talks to the models and Harvey Weinstein doesn't appear to shave beforehand. But according to a tweet from stylist Tabitha Simmons, who often works closely with Keren Craig and Georgina Chapman, this might change: "Now going to see the Marchesa collection! Can't wait as they are having a show this season. I will keep you posted," she wrote last week. This is hopefully true but potentially dangerous, as walking in those outfits could be even trickier than standing in them.
MARCHESA WILL STAGE FIRST FASHION SHOW [Elle]
Update: This post has been corrected from its previous version.