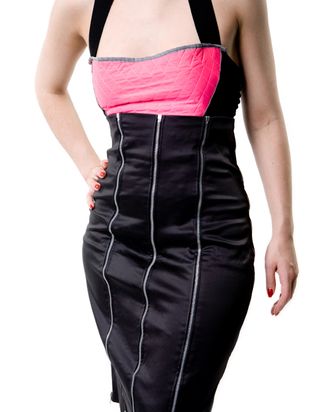 This stock photo dress would totally get you in. Seriously.
When was the last time you went out to a nightclub in the Meatpacking District and thought, Wow. That person looks amazing. The way she wears a leather skirt blows Anna Dello Russo and Emmanuelle Alt out of the water. Just stunning. Don't think too hard about it, really. Today, the Times confirms that the people who decide who gets in to the city's "hottest" nightlife establishments — based on how they look and only how they look — don't want you to look fashionable. Provocateur proprietor Michael Satsky:



"We do not do plaid, and we don't do stripes," he said. The ideal Provocateur guest "doesn't have to wear crazy stripes on his shirt to draw attention to himself." (Plaid was just fine, however, at the closing night of Beige in the East Village a few months ago, where nearly every fashionable gay man who showed up seemed to be clad in a gingham shirt.)

Mr. Satsky suggests that his male patrons wear "a blazer, a solid button-down or a solid sweater." For women, shoes are key. "Minimum five-inch heel," he said. "Christians are our favorite," he added, referring not to the faithful but to Christian Louboutin, the designer known for his red soles. Jimmy Choo and Christian Dior are also welcome. If the crowd in Provocateur on any given night is a gauge, being European, gorgeous and at least 5-foot-10 is good, too.
Dress Codes in New York Clubs: Will This Get Me In? [NYT]
Related: Rachel Uchitel Is Not a Madam