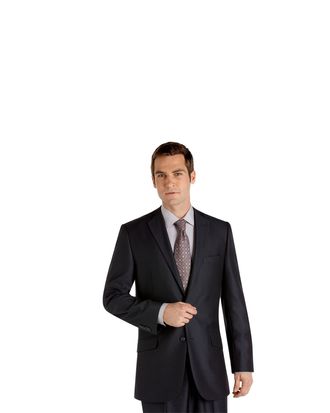 You never know what lies beneath.
Photo: Men's Wearhouse
Some businessmen apparently feel that their daily uniform — pressed shirt, demure-colored suit, and tie — does not adequately reflect their personality. How can they possibly express that they're more than, well, a suit? That in their nonworking hours they play drums in an almost-decent Grateful Dead cover band, or have a thriving seashell collection, or hold the highest record on Angry Birds probably in the state, if not the country? Well, The Wall Street Journal has some advice for these men:

The trick is navigating how much to push the personalization. The look must be comfortable and confident, never forced or affected. Taken too far a man risks being accused of having a mid-life crisis or becoming a slave to fashion.
Of course, a mid-life crisis is far more embarrassing than having one's creativity squelched. So, how to express oneself in a risk-free manner? The answer, according Saks's men's fashion director, Eric Jennings, is a nice "leather or beaded bracelet" worn discreetly beneath one's shirt cuff. "When you're reaching for your glass of wine or fork, [others] will see a flash of it," he explains.
A More Suitable You [WSJ]