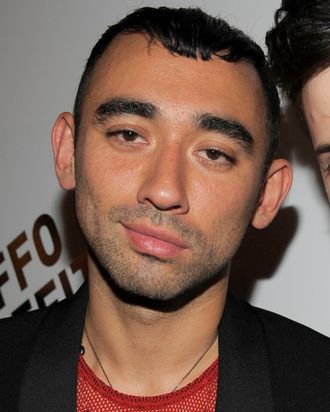 Photo: Paul Bruinooge/?? Patrick McMullan
Mugler creative director and stylist to Lady Gaga (or "Lady Bra-Bra" if you're WWD) Nicola Formichetti was recently in New York doing a shoot at Milk Studios for Japanese Men's Vogue. In addition to dressing Gaga, which must be a time-and-a-half job in itself, Formichetti still styles for a bunch of magazines, travels endlessly (he's on his second passport this year alone), and is planning a pop-up shop for our fair land of Manhattan. He spoke to Milk Made about how wonderful it will be:
I can tell you this, the theme for Vogue Hommes Japan was freedom fighters, Greek gods meet boxers, and for Modern China Weekly I wanted to present 12 young designers from China, which I will be showcasing in my pop-up store NICOLA's in New York from September 8 - 21 on 57 walker street in Tribeca. I will have cool stuff from Japan, young designers, Uniqlo, a performance space. As well as creations that I did for Mugler, Lady Gaga, etc.. Also I'm launching my own brand next year, so there will be a sneak preview of what's coming up in the future for that. So please come and visit me. I will be in and out of the store all the time.
MILK MEETS | NICOLA FORMICHETTI [Milk Made]