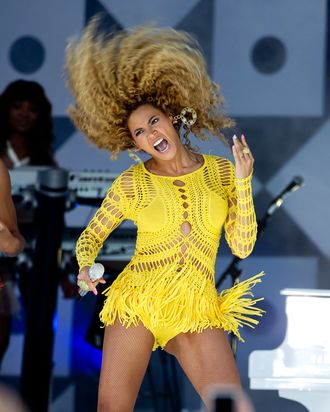 Photo: Debra L Rothenberg/2011 Debra L Rothenberg
Performing in Central Park for Good Morning America this morning, the diva wore a perforated long-sleeved bright yellow leotard with a fringed skirt, looking almost like she serves cocktails at an upscale tiki bar in St. Barths.
Would you say she pulls this thing off because she's Beyoncé, or is it one big no?
We're off a little early for the holiday weekend. We will return to our regularly scheduled blogging Tuesday morning, to bring you all the news on the Paris couture shows and recaps of Kate Moss and Charlene Wittstock's weddings. The Europeans may be stressed out this weekend, but that doesn't mean you have to be. Happy Fourth everyone!