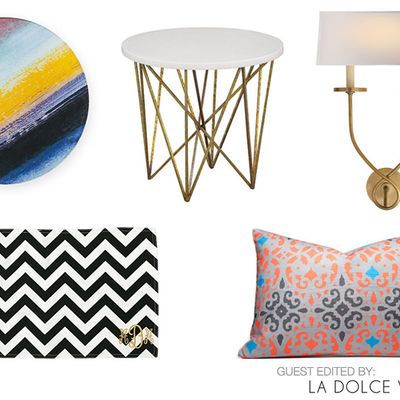 Clockwise from left: Decal Charger by DvF Home, George Side Table, Symmetric Twist Sconce, Linden Pillow by Hammocks and High Tea, and Chevron Place Mat.
With the popularity of sites like the Coveteur and the Selby, it's hard not to get a severe case of space envy. While owning a massive apartment filled with gorgeous antiques sourced from obscure flea markets may not be in the budget for everyone, it's easy to add personal touches to your crib. In this week's Shop-A-Matic, we hunted down 115 ways to revamp your home with inexpensive decorative knickknacks as well as investment pieces. We also asked Paloma Contreras of La Dolce Vita and High Gloss Magazine to chime in with her favorites. Keeping with her glamorous aesthetic, the picks are filled with bright colors, fashion-inspired prints, and touches of glitzy gold.
Chevron Place Mat
Price: $45
Why La Dolce Vita Likes It: A beautifully set table can transform a room. It makes your guests feel special, and if you're dining solo, it can even make take-out feel luxurious.