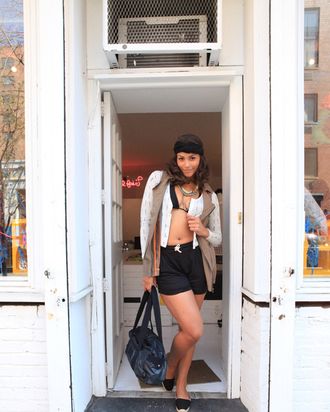 Marquita Pring
Photo: Cynthia Chung/Cynthia Chung
We've had our eye on Ford+ model Marquita Pring for a while. After she signed with Ford in 2009, she went from infrequently going to castings to landing the Levi's campaign, and, more recently, an editorial for Italian Vogue. Though the industry refers to her as "plus-size," she prefers to be called a "curvy" model, especially since there's not really a standard size for non-straight-size (read: skinny) models. Pring's size fluctuates between a twelve and fourteen, but, even when she has the freedom to — is supposed to — have an ass and hips, sometimes she has to "pad" for clients who want her to be "a solid 14 or 16," she tells WWD.



You pad? What does that mean?
Literally. I don't know if we should reveal this secret! They're pieces of foam. So I just lay them flat on each hip underneath [hosiery]. They're like a solid inch and a half thick.

Like football pads for your hips?
Yeah, to make you seem all around wider. I mean, from the side you look kind of weird — and it feels weird. Like every now and then my arm gets caught on it and I'm like, wait, this isn't me. But it's better for me because I can still be healthy and work out and have the body I want. It's a little bit of model magic.