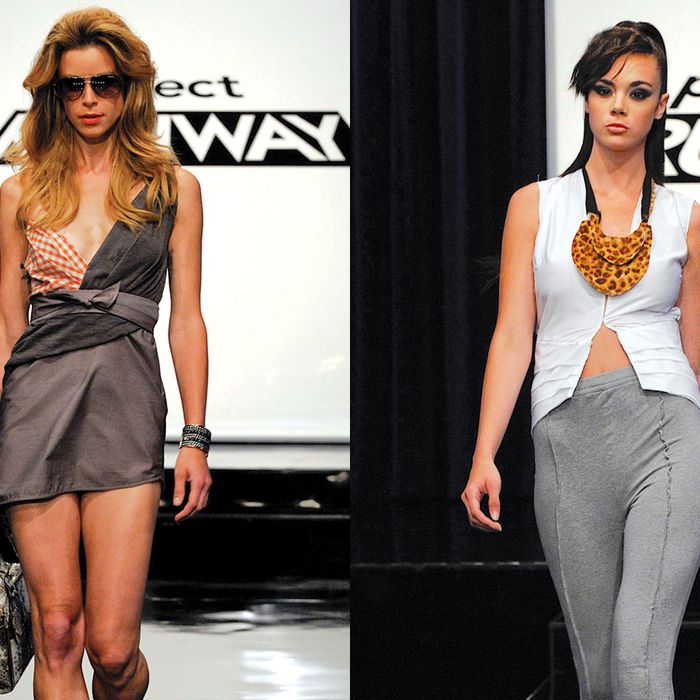 Here we sew go again. "Are we really back here?" asks Heidi, with a smize and a grin, to open Project Runway's ninth season. And as we wish our Thursday nights goodbye for the foreseeable future, we must say we were wondering the same thing.
Things kick off with the obligatory, comforting montage of supposedly confused contestants wheeling their suitcases through New York, which is just silly because: CABS. This is New York, there are cabs. Lots of cabs. As a further means of introduction, all twenty designers have to tout their bestest wares on a rack for Heidi, Nina, Michael, and Tim. And based on this selection of their pre-show work, four are out just like that. It's a dizzying affair, and as a primer on this season's players, more than a little confusing. After a brief back-and-forth amongst the judges — Nina is already questioning someone's taste levels, yay! — the four almost-rans get their ticket home: table-waiting David , romper-hating Amanda, brilliantly named Gunnar Deatherage, and poor Serena who'd postponed her whole wedding (in Iceland, no less) for the show. We feel bad, because this whole ordeal was so unnecessary. Just narrow down your cast before starting the season, Project Runway, it's not that hard. (And then we wouldn't have needed a ninety minute long episode either.)
Baseless Week #01 Prediction, Fashion Week Finalists: Anthony, Danielle, Olivier.