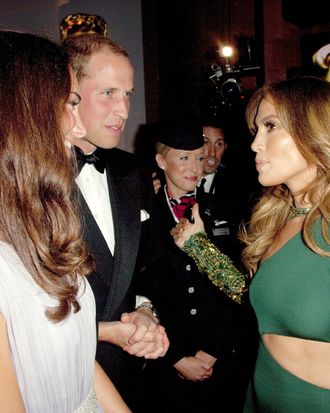 Jennifer Lopez schmoozing with the royal couple.
Photo: Pool/2011 Getty Images
As a finale to their North American tour, Kate Middleton and Prince William went to a red-carpet event in L.A. attended by lots of big Hollywood celebrities to promote the British entertainment industry. The actresses owed it to the public to bring on the hardcore fashion that Kate and William are simply not able to wear, but what we got was mostly a monotonous slew of one-shouldered blue dresses. Some of the more interesting looks appeared on Jennifer Lopez, who wore a body stocking of a Pucci cutout dress, and Elizabeth Banks, who wore a trendy white gown with gold buttons. See those looks and many more in the slideshow.