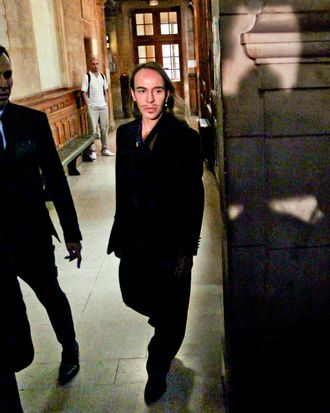 Galliano arriving at his trial in Paris.
Photo: JACQUES DEMARTHON/2011 AFP
John Galliano and Jewish Topshop owner Sir Philip Green found themselves at the same party, Kate Moss's wedding, last weekend. Rumors are now going around that they've decided to pursue a collaborative collection for Green's chain and may have hatched the scheme at Mosstock. Galliano awaits the verdict for his public insults trial in Paris for allegedly making anti-Semitic remarks at a couple in a Paris café, which led to his firing from Christian Dior — one of the biggest fashion news stories in history.
Galliano For Topshop? [Vogue UK]
Related: The Fashion Industry Is Overwhelmingly Sympathetic Toward John Galliano