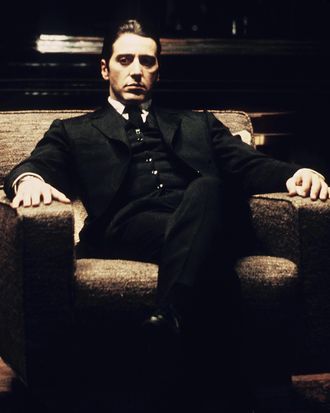 Photo: The Kobal Collection/-
Apparently there's a prison in Palermo, Italy so overrun by mobster inmates that they walk around in fancy suits and throw elaborate birthday dinners, complete with champagne and lobster. But the new governor is putting an end to such frippery:

Rita Barbera… [has launched] a ban on several designer labels such as Prada, Gucci, Valentino, Versace, Louis Vuitton and Armani. "The popular image of this jail is linked to the silk suits of godfathers and we need to cancel that image," she was quoted as saying to La Stampa newspaper.

Prisoners' wives, who were refused permission to deliver designer clothes to the 19th-century jail after the introduction of the new rules, said they were furious with the governor.

"My husband will be left naked," said one.

"He only has designer clothes, and that's not because he's flashy but because they last much longer and are better quality. Why humiliate him? Why force us to buy clothes at street markets?"
We would advise her to spend that money on designer clothes for herself so she can look extra fabulous when she gets her own reality show.
Italy's jailed mobsters 'humiliated' by clampdown on designer clothing [Guardian]