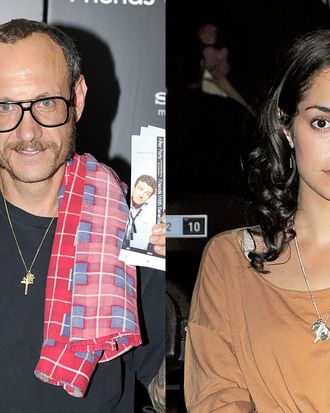 Terry Richardson and Audrey Gelman.
Photo: Patrick McMullan
Her name is Audrey Gelman, and she's the press secretary for Manhattan Borough President Scott Stringer. The Observer saw her attend the premiere of Friends With Benefits with Richardson, reporting, "They've been spotted at the various spots and parties that have always welcomed Mr. Richardson with open arms." Gelman, a former aide to Hillary Clinton, is a scenester, like Richardson, reports the Observer.

Ms. Gelman's an old friend of the downtown-famous Lena Dunham and has a featured spot on her forthcoming Judd Apatow-produced HBO series Girls. And let's hope Mr. Richardson isn't a Yankees fan: the tattoo inked on Ms. Gelman's lower lip reads "LET'S GO METS."
Well, maybe it's not that serious. Maybe they're just having casual romantic encounters — a subject that never needed two movies made on it in the first place.
It Couple Watch! Terry Richardson and Audrey Gelman, Scott Stringer's Press Secretary [NYO]