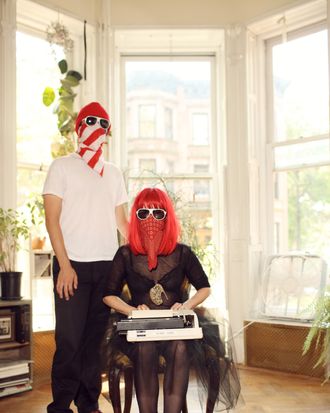 Gill and Jill Bumby, silently sizing you up.
The Bumbys, as they are known, are not rock stars, yet their gigs can be just as electrifying. Instead of drums and guitars, "Gill" and "Jill" bang away on typewriters, pecking out "fair and honest appraisals of your appearance" to anyone brave enough to stand in front of their makeshift table. A hit on the fashion- and art- world event circuit — Madewell, Levi's, and Art Basel Miami have all made it on to their roster — the New York-based pair operate anonymously behind visage-swallowing bandanas and sunglasses, delivering spur-of-the-moment, almost poetic missives to eager lines of strangers about their personal style. The process can be gut-wrenching or unbelievably thrilling, depending on your disposition, but one thing is for sure: It's a hell of a party trick, not to mention captivating performance art. We caught up with the duo to discuss their ratings system, summer trends, and when and if they plan to reveal themselves.
But with the masks and wig intact?
Jill: Exactly.