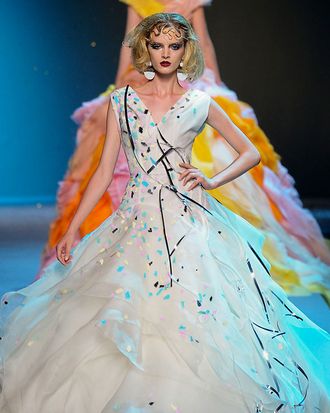 A look from Gaytten's recent Dior couture collection.
Newsweek's Robin Givhan recently spent some time with LVMH chief Bernard Arnault, looking into the dragged-out situation of not having yet replaced John Galliano at Christian Dior. The last couture show, Givhan notes, serves as a reminder that replacing Galliano will not be as simple as it seemed to be at Alexander McQueen, where the designer's right-hand woman, Sarah Burton, took over to rave reviews. Bill Gaytten, Galliano's right-hand man for ages who headed design of that couture show, lacked the vision needed for a cohesive, beautiful collection. Arnault is still cagey about who might succeed Galliano — he would not tell Givhan if Haider Ackermann, a rumored successor, was even in the running.
But though the house lacks a visionary leader, plenty of little people remain to hold it up. And our favorite part of Givhan's story is about one such woman:

During a recent visit to the Dior atelier, I met Lili Nassar, a plump, brown-skinned Frenchwoman with a bashful smile who has been at Dior for 38 years. She came to Paris from Africa and studied at the Ecole de la Chambre Syndicale de la Couture, which produces the country's skilled seamstresses and tailors. She was only 21 when she joined the atelier, working under designers Marc Bohan, Gianfranco Ferré, and, of course, Galliano. She has outlasted them all.

When Galliano first arrived, he had to adapt, not the atelier. He didn't sketch; his ideas were fragments in his head. People like Nassar helped coax them into reality.

"A lot of schools produce designers, but the technical people—this is what we have to protect," Sidney Toledano, the Dior chief executive, told me. "They work very hard here, and they live outside of Paris. They are not living like the designer. They are simple people. Some of them have a difficult life. They have their feet on the ground."

In short, Toledano said, "They're sustaining the house."
Arnault says he still hasn't forgiven Galliano for his reckless behavior, and seems to be interested in implementing a Céline model of management at Dior. Designer Phoebe Philo is subtle, out of the spotlight, doing an excellent job both in terms of sales and critical response. After what happened with Galliano, it's easy to understand Arnault's hesitation to go with someone brash, though the fired designer's jaunty pirate-ness was good fun while it lasted.
Bernard Arnault Rethinks the Cult of Fashion Gurus [Newsweek]