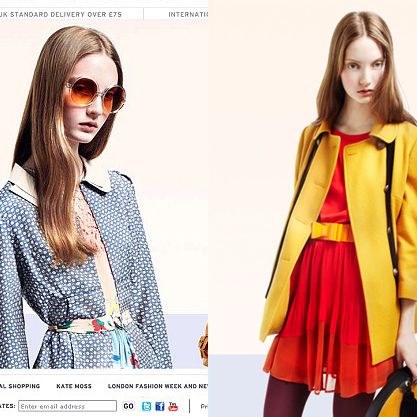 Topshop's original photo of Codie Young (left), and the new one (right).
A picture of model Codie Young on Topshop's homepage last week sparked a backlash from some eating-disorder support groups who accused the retailer of portraying an unhealthy girl. Last night, Topshop replaced the image with one that made Young look less exaggeratedly thin, admitting that the original photo "may accentuate Codie's proportions making her head look bigger and neck longer in proportion to her body."
Naturally, the Daily Mail had a field day with all this and interviewed a bunch of the people who had complained about the image.

Karen Easthall, who runs an anorexia support group in Norfolk, said: "This is absolutely outrageous in 2011, seeing models this thin. She clearly looks like a size zero. A disturbing picture of a stick-thin model can cause problems with young girls, who may try to copy them. Topshop should know better."

Ms Easthall's daughter Hollie, 16, spent four months in hospital after suffering with anorexia. She has since began to recover but Ms Easthall believes that seeing more pictures of thin models could risk her having a "relapse".
Topshop forced to remove controversial image of 'size zero' teenage model from website after outcry from eating disorder groups [Daily Mail UK]
TOPSHOP ANOREXIC - THE HONEST TRUTH [Codie Young Blogspot]