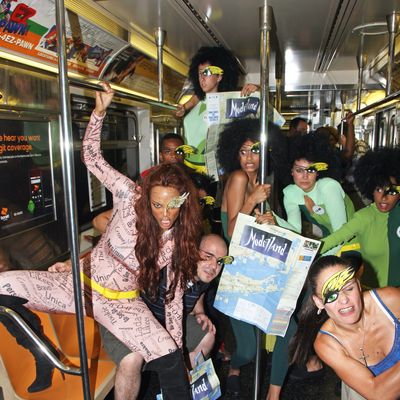 Despite its slapdash appearance, this is not an outtake from a Top Model photo shoot.
Photo: Lawrence Schwartzwald/? www.splashnews.com
Despite the heat wave, Tyra Banks was out in New York, wearing her catsuit on the subway, of all the less-than-ideal places to be wearing a catsuit today. Her outfit came emblazoned with the names of the characters from her forthcoming young-adult novel that's reportedly loosely based on her own experiences in the industry, Modelland, the promotion of which was the purpose of her riding public transit like the non-famous person she isn't. Rounding out the publicity stunt was her supporting cast of models wearing green leotards and leggings with very necessary feathery eye patches. Here she is posing up a storm with some very bemused and similarly eye-patched commuters on the 7 train. So if you're hot on your ride home from work today, just think, how did Tyra feel?