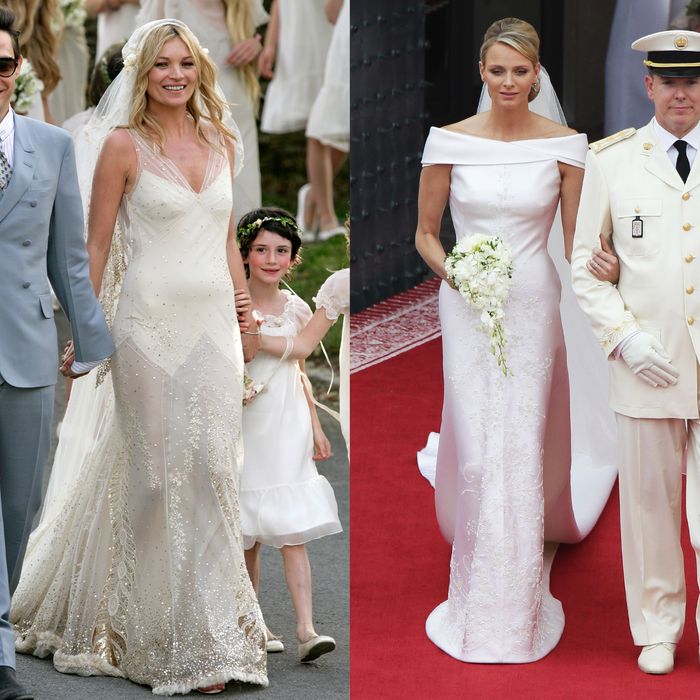 In the game of weddings, model Kate Moss and Princess of Monaco Charlene Wittstock are fierce rivals. In the same way two frenemies with overlapping sets of friends plan birthday dinners for the same weekend, leaving one to reschedule if she wants anyone important to show up. The loser in the scheduling contest — because when it comes to girly things, everything is a competition — was Moss, who moved her wedding ceremony up a day so that mutual friends wouldn't miss her moment (because she has so few in this life) to witness Charlene's. But as for the weddings themselves, who won? It may be hard for Moss to compete with royalty in the scheduling stakes, but she is a raging fashion icon who can start entire trends with the drop of an oxford on a London sidewalk, which is no small offensive for even an Olympic athlete like Charlene to go up against. To determine the winner, we've compiled an analysis of each three-day event, measuring the highlights with an arbitrary points system.
MOSSTOCK
The Dress:
• Designed by John Galliano, Moss's dress was a gorgeous slip of a thing with elegant rhinestone and beading detail and a see-through skirt that showed off Moss's legs. Robin Givhan of the Daily Beast notes, "The dress isn't dramatic or theatrical, nor a runway-finale-style dress full of tricks and showstopping ostentation. It isn't an iconic gown, either; its lines won't have the bridal industry atwitter." Which is exactly why we love it. Who wants to look like a low-rent version of a famous person at their wedding anyway?
Plus 100 because she looked PERFECT.
Now we know, Charlene is the clear and proven winner of the weekend's epic wedding battle. Just goes to show that even Kate Moss can't beat a princess wedding.