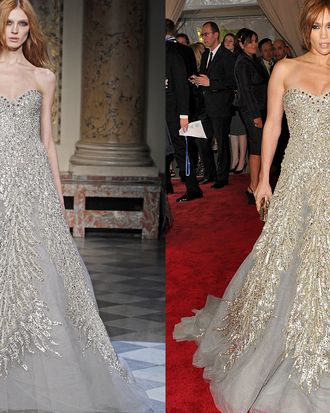 Zuhair Murad's gowns have been inescapable on the red carpet since Miley Cyrus wore one to the 2009 Oscars. Yesterday, he showed his new fall collection at couture week. WWD may have called it "tacky," but his unapologetically lavish aesthetic is clearly working for some of the most famous women in the world today (prices for couture start at $5,000, so it ain't cheap). Murad, whose business now employs more than 170 people, routinely dresses everyone from Beyoncé to Blake Lively to Jennifer Lopez, to oohs and aahs from their — and his — adoring fans. Ahead of his couture show, we rang up Murad in Lebanon to find out more about his curious ubiquity, who his clients are, and his plans for his first New York store.
You are clearly everywhere right now, but how did you get your start?
When I was very young, a little child, I used to draw all the time, fashion, and cut fabrics and buy fashion magazines. I decided to study fashion and art. At the age of 20, 22, I opened my first atelier in Beirut, my city. If you like something, you can do it with passion, so this is my world and I love my atelier.
Who are your clients?
Especially because I started with the couture, all of my clients are princesses — women who love fashion, who spend, maybe, a lot of money to be unique, to be special, to be different. Especially for a special occasion, especially for celebrities, for rich women all over the world. My client, she's a woman who likes couture because it's a very special art, and at the same time she's classic.
See some of Murad's best red-carpet moments in the slideshow.