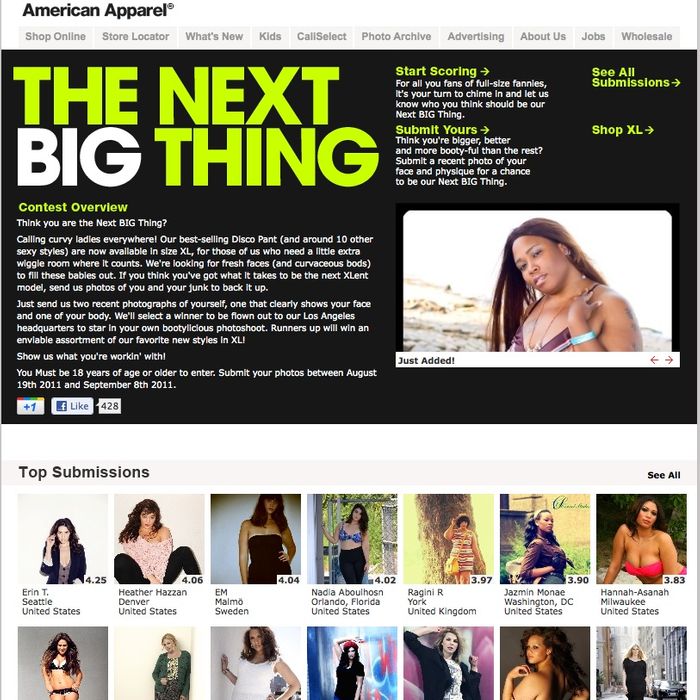 In its latest attempt to be controversial, turn heads, and meet its bottom line, American Apparel has launched a search for "the next big thing," a presumably fun pun they've devised to broadcast their plus-size model search! A description from their website explains they need women with "junk" to model their newly available XL offerings:



Think you are the Next BIG Thing?

Calling curvy ladies everywhere! Our best-selling Disco Pant (and around 10 other sexy styles) are now available in size XL, for those of us who need a little extra wiggle room where it counts. We're looking for fresh faces (and curvaceous bods) to fill these babies out. If you think you've got what it takes to be the next XLent model, send us photos of you and your junk to back it up.

Just send us two recent photographs of yourself, one that clearly shows your face and one of your body. We'll select a winner to be flown out to our Los Angeles headquarters to star in your own bootylicious photoshoot. Runners up will win an enviable assortment of our favorite new styles in XL!

Show us what you're workin' with!
THE NEXT BIG THING [American Apparel]
American Apparel Introduces Size XL, Holds Search For 'Booty-Ful' Models [Jezebel]