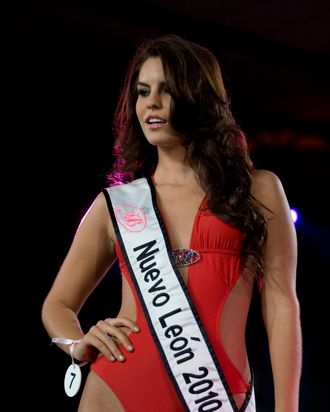 Cynthia in Nuestra Belleza's swimsuit round.
Photo: Clasos/2010 Clasos
After winning second place in Mexico's Nuestra Belleza pageant last September, Cynthia de la Vega was ready to compete in this year's Miss World pageant. (Just in case you're wondering, Nuestra Belleza's first-place winner gets to compete in Miss Universe — the totally different pageant where beauties from all around outer space compete).
However, the stress of preparing for the big competition caused Cynthia to gain a bit of weight, she says. Pageant officials told her she'd have to lose it again, but her pageant coach reportedly only offered assistance in the form of a diet plan that outlined what to eat (what exactly we don't know, but presumably not tacos). Cynthia says she expected "a nutritionist or any other assistance to ensure the weight loss," and without this help, she was unable to drop the pounds Nuestra Belleza considered excessive. And because of this, she says pageant officials took back her tiara, and are subbing in another contestant to represent Mexico in Miss World. The pageant would not say specifically why Cynthia was de-crowned, only that she "did not comply with the recommendations and goals agreed upon for her preparation."
'They demanded I lose weight': Mexican beauty queen claims she was stripped of crown after refusing to go on diet [Daily Mail UK]