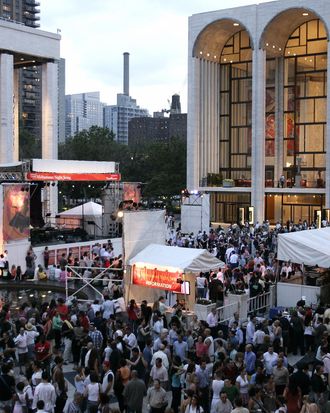 Lincoln Center during fashion week.
Photo: TIMOTHY A. CLARY/2006 AFP
MAC & Milk (or "Made," as it's supposedly changing its name to), a popular site for shows who'd rather not deal with Lincoln Center during New York Fashion Week, is providing stiffer competition than usual for its uptown counterpart this coming season. And it's not just because they're competing for the same fashion designers; a lot of their sponsors are direct competitors as well. Reports WWD:

Powerhouse agent, car company, credit card firm, beauty house — sound familiar? It should, because while Made downtown has CAA, Lexus, Amex and MAC, the uptown New York Fashion Week at Lincoln Center is owned by CAA's direct competitor IMG and is sponsored by Mercedes-Benz as well as Amex, Maybelline New York and others.
It's on! So which sponsors will give out better freebies?