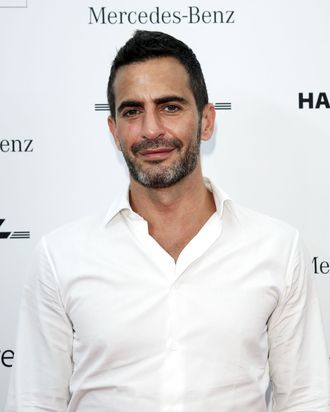 Marc Jacobs.
Photo: Andreas Rentz/2011 Getty Images
WWD editor Bridget Foley is on Team Marc. She's always been, she writes in today's paper, "a major Marc fan," going on to explain her love for him is tempered, as fashion love can only be in certain circles:
I'm a bigger fan of my daughter, but when she was six and asked if she was the best hoofer in Ms. McNamara's Irish step-dancing class, I told her no, in fact quite the opposite. I surely wouldn't have thought her Riverdance chorine material.

Ooh, is Riverdance class like the new fencing lessons? Anyway, Bridget thinks Marc Jacobs is perfect for Dior, which her paper reported as not an unlikely possibility yesterday.
Bridget Foley's Diary: Just Do It, as They Say at Nike [WWD]
Earlier: Reports: Marc Jacobs in Talks to Succeed John Galliano at Dior