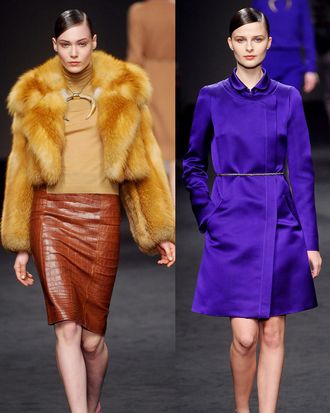 Two looks from Brioni's fall 2011 collection.
Photo: Alessandro Lucioni
Sources say that Brioni plans to close down its womenswear line and terminate its contract with designer Alessandro Dell'Acqua, who has worked there since May 2010. The label has apparently been selling well and had plans to open a number of womenswear stores, so the rumors of its closure come as a surprise. It does seem to have something to do with luxury conglomerate PPR, who is in talks to buy the brand, and "may only want to focus on men's," according to a source, because "It already has so many women's lines."* There's additional speculation that PPR is trying to beef up its menswear to compete with LVMH's plans to revitalize Berluti. It's unclear whether the Brioni womenswear show, scheduled for September 25 in Milan, will still take place; Dell'Acqua is apparently on vacation and was unreachable for comment.
Brioni Said Ending Women's Line [WWD]
*This posted has been corrected to show that PPR is in talks to acquire Brioni.