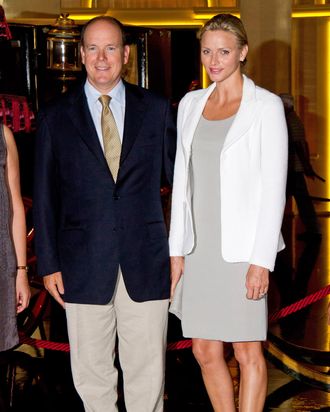 Prince Albert and Princess Charlene of Monaco on August 3.
Photo: Stephane Drapot/2011 Stephane Drapot
How Important is a best-dressed list, really? It's a great publicity tool for whoever put out the list, and a fun excuse for readers to evaluate how everyone on it looks. The public is seldom prompted to ponder the sartorial worthiness of a curated group of famous people, outside of a few award shows. However, Vanity Fair's best-dressed list, which came out this week and garnered a great deal of attention — partly because it included Kate Middleton — gave everyone the excuse to do just that. New York Times fashion critic Cathy Horyn reflects seriously on the selections:
The B.D.L. committee seemed to make an effort to broaden the list, not quite banishing obvious socialites and actresses but nearly so. I was glad to see, among others, Catherine, Duchess of Cambridge; Christine Lagarde; Jenson Button; Colin Firth; and Shala Monroque. But Princess Charlene of Monaco was a stretch. Her style to me is something of a flat pancake, despite (or perhaps because of) the effort she applies. It's hard to say the B.D.L. isn't relevant in a style-shaping era, but does it ultimately offer us enough information?
Related: What Will Charlene Wittstock's 'Other' Royal Wedding Dress Look Like?