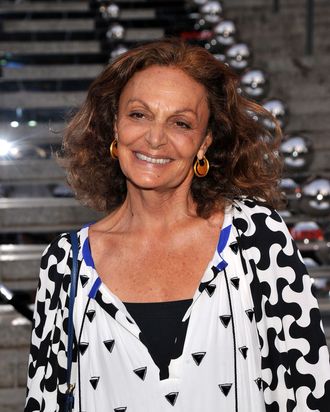 Look at those pearly whites.
Photo: Stephen Lovekin/2011 Getty Images
Famed dentist Bernard Touati, whose office is located in the golden triangle between Chanel, Dior, and Prada's flagship stores in Paris, grants special favors to all his fancy clients. Reports T magazine:

He'll see Diane Von Furstenberg on Yom Kippur if the film director Danièle Thompson asks him to, and Madonna can come in in a pinch, but this isn't a walk-in clinic. He wouldn't accept payment from Von Furstenberg; she gave him an I.O.U. for two dresses at her boutique instead. "He'd be worth moving to Paris for three months to see," the designer says.

Psh, dental coverage. Who needs it when you've got fabulous clothes instead?
Drill, Bébé, Drill [T Magazine/NYT]