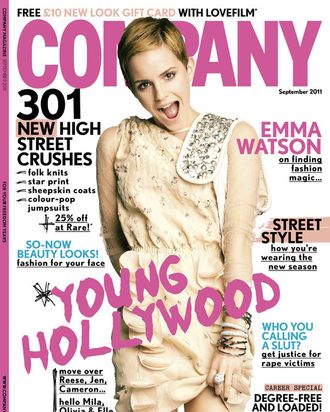 Emma Watson on Company Magazine.
It's rough, being 12-years-old and having to go on red carpets. Even though Emma Watson didn't have to deal with normal tween horrors like zits, hair frizz, and the awkward transition from kid- to adult-size clothing (being blessed with great genes and wardrobe stylists and all), it still wasn't all roses, she tells British magazine Company:

I used to look back at pictures and cringe … The only regret I have is when I look at something I wore when I was very young and it obviously looks like it belonged to someone else.
Emma Watson Covers 'Company' Magazine [Company UK via Just Jared]