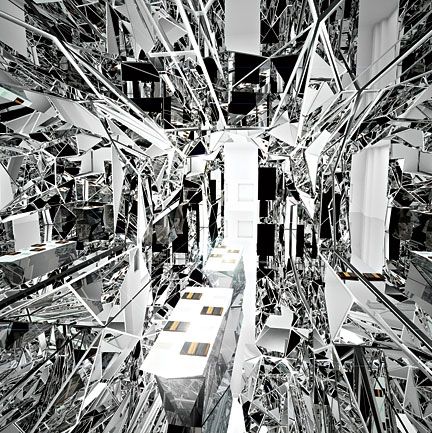 Disco!
Photo: Courtesy of Mark Foster Gage
Mugler creative director and stylist to Lady Gaga Nicola Formichetti opens his first pop-up shop on September 8 at 57 Walker Street in Tribeca. Here is an exclusive first look at the rendering for the shop, designed by architects Mark Foster Gage and Marc Clemenceau Bailly of Gage/Clemenceau, who Formichetti found through a contest organized by the nonprofit arts organization BOFFO. Out of more than a hundred packets, Formichetti told us, he picked Gage/Clemenceau after only looking at the first page of their proposal, which looked something like what you see here. There is one great benefit to the mirrored surfaces, by the way:

Have you hired staff?
Mark Foster Gage: We're going to be there, making sure people don't touch any of the walls, getting fingerprints all over.

Nicola Formichetti: I'll be there; I'll be selling the stuff. My friend Rico the zombie kid [a model who is tattooed all over, including his face and skull] — I wanted him to be shop manager. And I want him to perform in there.

What kind of performances does he do?
N.F.: He does these shows in Montreal with his friends about, like, blood and zombies and things like that, and it's weird.
M.F.G.: The mirrors are easily cleaned.
Read more in this week's issue: T-Shirts Times Infinity