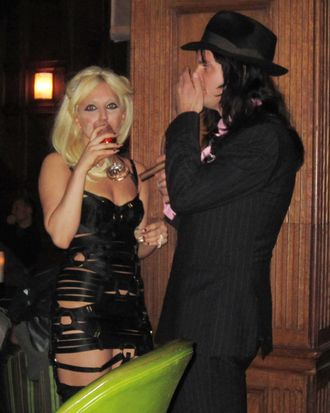 Gaga and Luc Carl at Oak Room in January.
Photo: Splash News/? www.splashnews.com
Does anyone actually believe Lady Gaga is engaged to that guy Luc Carl? Irish bookie Paddy Power, which took bets on the designer of Kate Middleton's wedding dress, has opened bidding on who will design Gaga's. Anyway, her sister Natali is in the lead with 13–8 odds, while, in a separate betting pool about what the dress will be made of, "balloons" have 3–1 odds and "glass" has 11–2 odds — even though there's no real sign of Gaga being engaged at all, and it's hard to imagine she would get married wearing balloons or glass and not tip off the press. But what do we know? Maybe she will get married in total secrecy wearing a glass dress. After all, she wore flats all night at the VMAs, Beyoncé is pregnant, and New York experienced an earthquake and a hurricane within a week. Life can get you like that.
WEDDING WATCH [WWD]