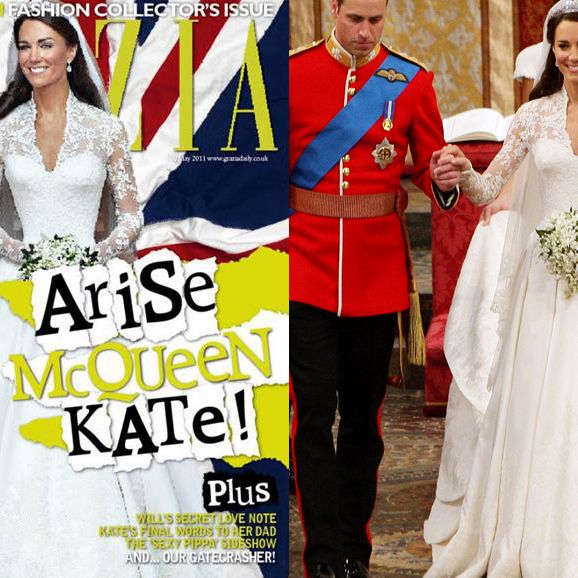 The Royal Wedding, remember?!
After a super-skinny Kate Middleton appeared on the cover of an issue of Grazia back on May 9, folks complained to the British Press Complaints Commission that the image had been manipulated. And Grazia has now owned up to some Photoshop wizardry (surprise!)
In their quest for the perfect Kate cover, they had to chop Prince William out of a picture — poor Wills getting sidelined again — and, in the process, lost Kate's right arm. So they just replaced it with a mirror-image copy of her left one, with the left-side curve of her torso and waistline copied over too. That this makes Kate look like she's wearing a very painful, if not impossible, corset was entirely unintentional, and Grazia put out a statement saying they, "would like to reassure all our readers that [they] did not purposely make any alternations to the Duchess of Cambridge's image to make her appear slimmer." We'd hope so, because the Duchess certainly doesn't need any help looking slim or pretty.
Grazia admits digitally slimming Duchess of Cambridge [Guardian UK]
Related: 'Expertise' on the State of Kate Middleton's Figure Reaches Absurd Heights