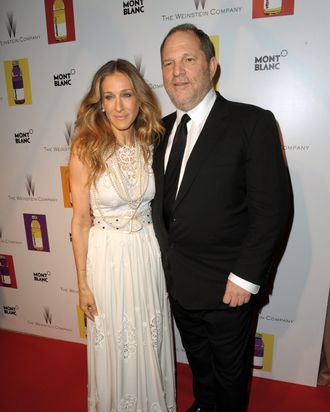 Sarah Jessica Parker and Harvey Weinstein.
Photo: Michael Buckner/2011 Getty Images
Last month it felt like all the glamour and name-iness of the Halston management just fled the label like air out of a popped balloon. And the only warning we got was a throwaway line buried in a Vogue story, which everyone reads so thoroughly anyway, about how Sarah Jessica Parker's relationship with the label had come to a close. Parker entered — and exited — the label the same way many folks had. As soon as one board member left, another came on, and it wouldn't be long before any of them were out. Rachel Zoe signed on to the board with Harvey Weinstein, who owned a 15 percent stake in the label while venture capital firm Hilco Capital owned the rest. Zoe exited quickly after joining in 2007. Marco Zanini was hired and fired, replaced by Marios Schwab, who was then fired, too. Bonnie Takhar, chief executive officer of Jimmy Choo before joining Halston, was fired last year. This year, Parker opted to exit her contract early. Now, with that entire board out, BCBG's president has taken over. So what went wrong with the people Weinstein assembled, who should have known what they were doing?
Friends of Parker tell the Observer it wasn't her fault.