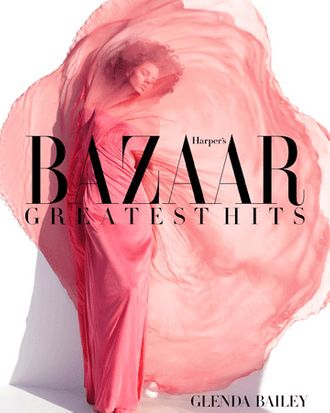 Glenda Bailey's new book: 'Harper's Bazaar: Greatest Hits.'
This fall will mark Glenda Bailey's tenth anniversary as the editor-in-chief of Harper's Bazaar, an occasion she's marked with a hefty coffee-table book of her favorite covers and spreads from the last decade. The magazine's reputation for whimsical, imaginative stories — a Simpsons version of Marc Jacobs, Naomi Campbell racing a cheetah across an African savannah, or Oscar de la Renta posing next to Sesame Street's Oscar the Grouch, to name a few — is distilled into 320 pages of iconic photographs and illustrations. We chatted with Glenda about her past ten years, her most nerve-wracking editorial moments, and her future at Harper's Bazaar.
Are you able to pick an all-time favorite spread?
The Simpsons spread is definitely up there. Marc Jacobs liked the cartoon picture of himself so much that he got it tattooed on his arm, which was of course the ultimate compliment. Out of anyone, Marc has the greatest sense of humor about pop culture and how it relates to high fashion.
I think you can even see that tattoo in the nude photo with the Stephen Sprouse paint.
Yes, you can! I got the idea for that picture when Marc Jacobs and Louis Vuitton were re-releasing the Stephen Sprouse pieces [in 2009], and so I went up to [Marc] at a party and I pitched him on it. I said, 'You know, we'd really like have you pose nude with the Stephen Sprouse pattern painted on you,' and he was like, 'Okay,' right then and there. He didn't even blink.