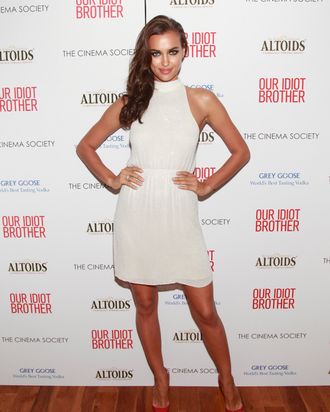 Irina Shayk, in Alice + Olivia.
Photo: Charles Eshelman/2011 Charles Eshelman
So does Sports Illustrated cover model Irina Shayk actually follow sports, or does she just play along to humor her boyfriend, soccer player Cristiano Ronaldo? "I love sports," she told us at last night's Cinema Society screening of Our Idiot Brother. Can she follow what's going on? "I do understand a lot, you know. Basketball, U.S. Open … I mean, everybody thinks models are stupid, but trust me, we are very smart." She continued, "Just for you to know, people, models are very smart. We're investing money in the right way, and, you know, a modeling job I'm taking as a businesswoman. So it's not fun for me, it's work."
Speaking of, Shayk has been trying to take the current stock-market roller coaster in stride. "I'm very smart and I have a great team of people around me investing my money. I'm not buying gold — yet," the model said, laughing. "I'm just collecting gold presents, which is more fun, actually, than buying gold." Definitely smarter, too.