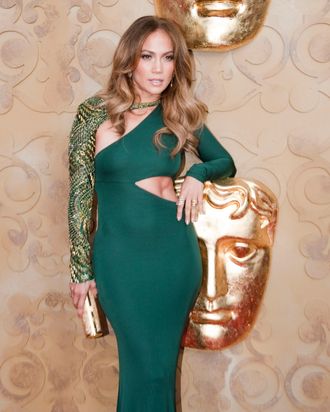 Jennifer Lopez wore this to meet Kate Middleton.
Photo: Pool/2011 Getty Images
When it comes to dressing, Jennifer Lopez knows more than how to pull off a jumpsuit made from disco balls and tinsel. Though she certainly enjoys standing out, she offers sound advice on Glamour.com today about how to dress for job interviews, law school, and summer weddings — places where the name of the game is, usually, not standing out too much.
"For a wedding, keep it classic," she suggests. "Because when you look back on those pictures, you don't want to look like you're out of place."

Well, maybe she picked that up when she was working on the Wedding Planner.
Your Style Questions, Answered (By Jennifer Lopez!): Plus, The Scoop On Her Fab New Collection With Kohl's [Glamour]
Related: The Many Jumpsuits of Jennifer Lopez