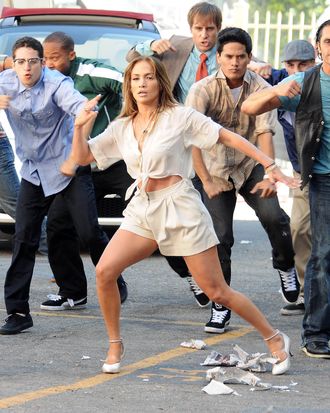 J. Lo.
Photo: MAP / Splash News/? www.splashnews.com
During one scene in Jennifer Lopez's new music video — seemingly a spontaneous dance break in a parking lot, you know, as tends to happen on day-to-day errands around L.A. — she wore a pair of pleated shorts and a white button-down blouse tied above the belly button.
This seems like quite a low-key look, especially by Jennifer's standards. Is it casual dressing done well, or do you feel like you're missing out on a jumpsuit?
Update: Thanks to commenter FashionVictim25 for pointing out that this is, in fact, a "romper-style jumpsuit" by Phillip Lim — and that it's connected along the waist at the sides, not a top semi-tucked into a pair of shorts as appears to be the case thanks to all of J. Lo's shimmying here. Of course J. Lo wore a jumpsuit! So, is this a good or a bad twist on J Lo's more conventional take on the onepiece?