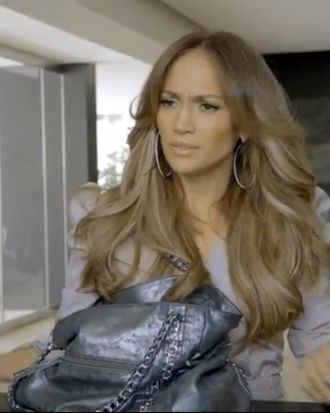 As if this would ever actually happen to J. Lo.
Forever the bane of freelancers and temporary employees: Office building security guards, who see you every morning but always act as though they don't remember you since you're not official enough to have a special building ID for easy entry. And it seems like even a spot on the A-list doesn't make a difference — in this new video Jennifer Lopez can't even get into her Kohl's office to work on her new line for the chain. Even she has to show a photo ID to gain entry, in this spot released by Kohl's, which is, okay, not entirely serious. But still, it's sad that there's no "don't you know who I am?"-style meltdown.
Really though, J. Lo probably has an assistant ready to sing the "Jenny from the block" line on the no doubt crazy-rare occasions she isn't immediately recognized and whisked off to a VIP room with chocolate-covered strawberries and a harpist. Also worthy of discussion: J. Lo's office attire.