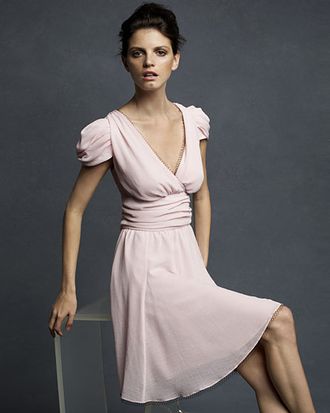 Karl Lagerfeld for Macy's.
Karl Lagerfeld is so committed to reaching the masses with his fashion designs that he allowed his forthcoming Macy's line to be shown on the runway for the first time in Minneapolis. The line comes out in hundreds of Macy's stores on August 31, with prices starting at $49 for a graphic tee, and capping at $169 for a knee-length wool coat, which should be totally exciting for fashion-inclined people. Yet the reaction in Minneapolis wasn't one of joy that the Kaiser himself, Karl Lagerfeld, one of if not the most important designer of our time, was showing clothes he designed there — but not because they don't understand or appreciate fashion. WWD:
The hype surrounding Karl Lagerfeld's new capsule collection for Macy's fell a bit flat in the Midwest on Friday after the line made its runway debut during the department store's annual Glamorama fashion-show-meets-concert in Minneapolis. Attendees were more impressed with the other collections shown that night by Marc Jacobs, Jean Paul Gaultier, Tracy Reese and Sonia Rykiel — although those are designer lines and far from the masstige Lagerfeld brings.
LAGERFELD GOES GLAM [WWD]