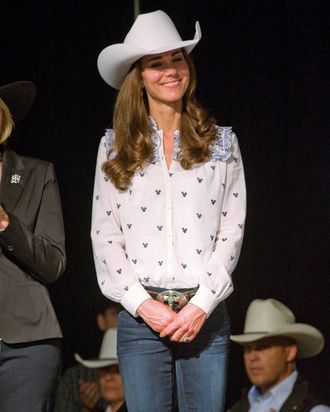 Kate Middleton at the rodeo in Canada.
Photo: Samir Hussein/2011 Samir Hussein
This morning Vanity Fair teases us with a preview of it's 72nd International Best-Dressed List. Its star this year is Kate Middleton, who makes her debut, marking yet another major media outlet to give her safe, nude-pantyhose approach to dressing a glowing endorsement. Carla Bruni is also on the list — for the fourth time — joined by the Obamas, who appear in the couples category as a single unit rather than as a separate woman and man. This is Michelle's fourth time on the list and Barack's second time being recognized since he debuted in 2009.
Revealed! The 2011 International Best-Dressed List [Vanity Fair]