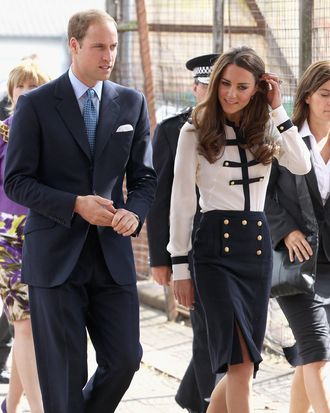 Kate and Wills, coordinating their navies.
Photo: Chris Jackson/2011 Getty Images
Prince William and Kate Middleton made a visit to Birmingham today, touring areas that were badly affected by last week's rioting. Kate wore another Alexander McQueen outfit: a navy pencil skirt and a white silk blouse with navy trim and large gold buttons. She added a pair of navy heels that she's often worn before, as well as small teardrop earrings.
The couple met with residents, hospital staff, and emergency service workers to thank them for dealing with all the unrest. But apparently the only thing folks wanted to hear about was … the royal wedding. Which must be a sign that things are returning to normal?
Related: The Kate Middleton Look Book