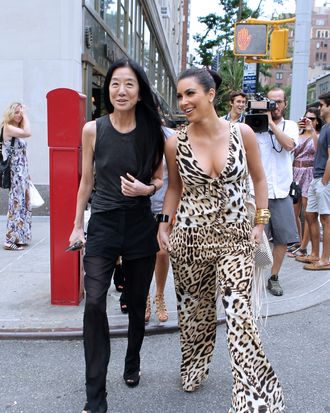 Vera Wang and Kim Kardashian, hanging out super-secretly last week.
Photo: Christopher Peterson/2011 BuzzFoto
After months of insisting on the utmost secrecy on all things surrounding her wedding gown, even reportedly forcing Vera Wang's staff to sign confidentiality agreements and then walking around in public with the designer in a totally inconspicuous outfit so no one could possibly notice them, Kim Kardashian made a surprise announcement: Vera Wang is making her dress! This is unsurprising for all of the above reasons, but also because Wang made Khloe Kardashian's wedding dress last year, and is arguably the most famous bridal designer in the nation.
Kim Kardashian Reveals Her Wedding Dress Designer: Vera Wang [People/Stylewatch]