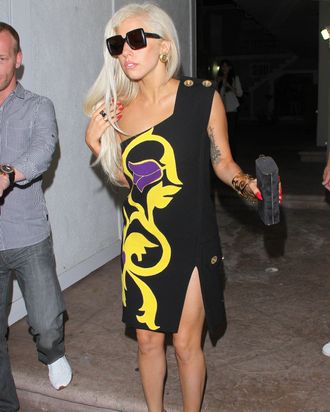 Lady Gaga.
Photo: MAB / Splash News/? www.splashnews.com
Lady Gaga dressed for dinner in L.A. last night in, well, just a dress from Versace's fall 2011 collection. Keeping her outfit so simple that you might wonder if this was a cheap impersonator (it's not), she accessorized with only black shoes, a small clutch, gold jewelry, and a pair of big black sunglasses. Her hair was down and flowing all naturallike, and though her nails look quite pointy, they're just a single shade of red.
Do you miss normal Gaga (and by normal we mean, well, you know), or is this a nice change?