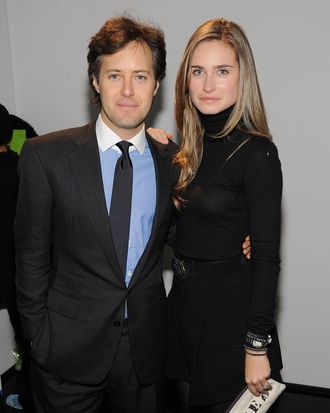 David Lauren and Lauren Bush.
Photo: Dimitrios Kambouris/2011 WireImage
Whether or not you plan to spend Labor Day in the bush, your long weekend won't be as Bush-y as Ralph Lauren's. His son David will finally make an honest double Lauren of George W. Bush's niece Lauren Bush. She commented recently on the amusing same first and last name issue the wedding raises: "I think it will be Lauren Bush-Lauren. I am sort of old-fashioned in that way."
While her grandfather George H.W. Bush is not planning to attend, it's unclear if W. will. But it sounds like the wedding, taking place at Lauren's 17,000-acre Colorado ranch, is right up W.'s cow path since there will be a heavy Western flavor to the whole thing.