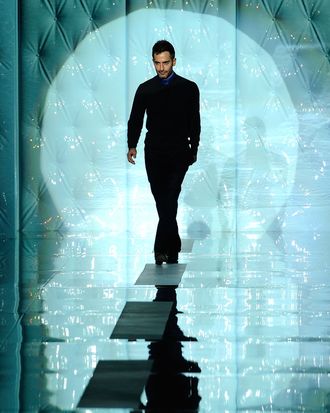 Marc Jacobs at his fall 2011 show in New York.
Photo: Fernanda Calfat/2011 Getty Images
Marc Jacobs has pushed back his forthcoming fashion show from his usual Monday evening time slot to Thursday, September 15 at 8:30 p.m. Delaying the show "will allow Jacobs and his staff to make up for time lost this past weekend when the entire design and sample room staffs were scheduled to work before Hurricane Irene intervened," reports WWD, who spoke to Robert Duffy today. Meanwhile, the Marc by Marc Jacobs show has been bumped up to Monday. Having Marc show so late on Thursday will undoubtedly complicate the plans of those flying to the U.K. that afternoon for London Fashion Week, which commences Friday the 16th, as well as the designers who are scheduled to show then.