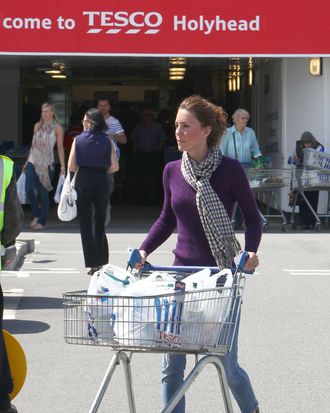 Kate Middleton — keeping it real.
Photo: GERALLT/Bauer-Griffin LLC
Since the royal wedding, and especially since Kate Middleton has taken a small step back from the cameras following her North American tour, tabloids have filled their Middleton quotas by asking other name-y people what they think of the duchess. And the celebrities and designers who have offered their thoughts have surely learned by now that saying anything at all about a Middleton, negative or positive, is a great, quick way to get their name in the news, and thereby a great, quick way to shill whatever they're currently shilling, if it's something other than just themselves. Below, a roundup of some post-wedding reactions to Kate Middleton. Her harshest critics so far? Brits.
The Lovers:
• Anne Hathaway: "Can I tell you how grateful I am to Kate Middleton? Because she is such an advocate for dressing like a lady. I think for a few years that kind of slightly dirty look was adopted by Hollywood — you know, the stringy hair, homeless thing. And I really tried. I was like ok I'm going to give that a go. (But) it doesn't suit me, I don't suit it. I always looked kind of chubby. I'm just very grateful to Kate Middleton for making looking appropriate really fun again. So right now my fashion choices are all about Kate Middleton." [USA Today]
• Taylor Jacobson: "I think she's really chic and I think her whole look is so effortless. To be honest, I don't think she puts that much emphasis on it, and I think she just rolls with it. That's why she doesn't care about repeating a dress, if she likes how something fits she just goes with it. I mean she could out-buy anyone and can have 75 million different dresses per hour, but who cares? That's not her thing. She's obviously very chic and sophisticated." [Hollywood Life]
• Kelly Osbourne: "In England they're like, look how thrifty she's being, showing the British public that the royals are in a recession as well. I'm sorry, if I had that job I would only wear [each dress] once. If I'm going to be the future bloody queen of England I'm gonna wear that dress once, and that's it, because I'm giving up the rest of my life, all of my privacy — at least I could wear a new dress every day." [Tonight Show]