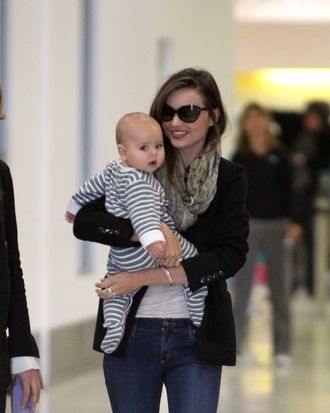 Miranda Kerr with her baby. SO CUTE.
Photo: Grey Wasp/Blue Wasp/Splash News/? www.splashnews.com
Miranda Kerr made lunch — tamari-marinated salmon with sweet potato mash and broccoli, if you really want to know — for a journalist in Australia who came by her house one day to interview her for the Sydney Morning Herald. Of course they talked about her six-month-old baby Flynn. "I'm really lucky because I have a good-natured boy. When I was pregnant, I practised hypnobirthing, which is a daily meditation, and I practise a lot of yoga and I think that had a lot to do with him being calm because that was the first energy he felt," says Kerr, who isn't so concerned with modeling anymore. "My priorities are to be with him and just do select [modeling jobs], the things I love," she adds.