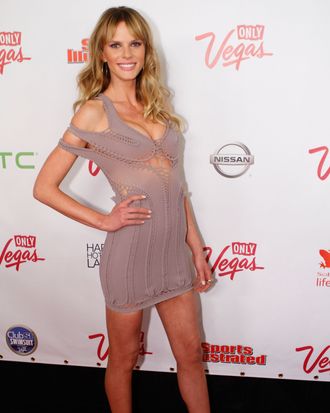 Anne V. in February at a Sports Illustrated event.
Photo: Jacob Andrzejczak/2011 Getty Images
Sports Illustrated swimsuit issue models have told tales of eating lots of good, solid, caloric food in preparation for their shoots. Seems hard to believe on the one hand, but makes sense on the other because the pictures of models that sports-media-consuming men want to look at are kind of the opposite of the pictures of models fashion people want to look at. "They were like, 'You're too skinny. Start eating cheeseburgers.' That's when I was like, This magazine's for me," model Julie Henderson has told us. But model Anne Vyalitsyna, who has been in the issue for seven years in a row, doesn't have the same reaction to that kind of encouragement to feed.
"There is a certain weight I feel comfortable in," she tells PEOPLE. "The thing is, with Sports Illustrated, they want the whole voluptuous, soft body. Sometimes I'm not comfortable with that."
Anne V on Her Bikini Bod and Getting 'Sexual' with Kellan Lutz [People]
Related: See Kellan Lutz Model